What Makes Main Line Berwyn Apartments So Unique?
Are you searching for an apartment community in Berwyn, PA that serves both your work and play lifestyles? One that is conveniently located close to popular commuting routes, local Berwyn restaurants, and more. At Main Line Berwyn Apartments, you can have it all while also living comfortably on the Main Line.
Convenient Location For Traveling
Main Line Berwyn provides commuters and travelers alike easy access to different roads to help shorten their drive time. Traveling east or west, drivers have Route 202 and Route 30 (or known to many as Lancaster Ave) just under two miles away, as well as Route 476 five and a half miles away. Main Line Berwyn Apartments gets its name from being located on the Philadelphia Main Line Proper, a line of towns located along the former Pennsylvania Railroad's prestigious Main Line rail line, connecting Philadelphia with Harrisburg and Pittsburgh. Other towns on the Main Line include Ardmore, Gladwyne, Haverford, Merion, Narbeth, Villanova, Wayne, Radnor, Wynnewood, Paoli, Devon, and Malvern. If you want to learn more about the Main Line, check out this article detailing the history of the rail line, dating back to the 1800s!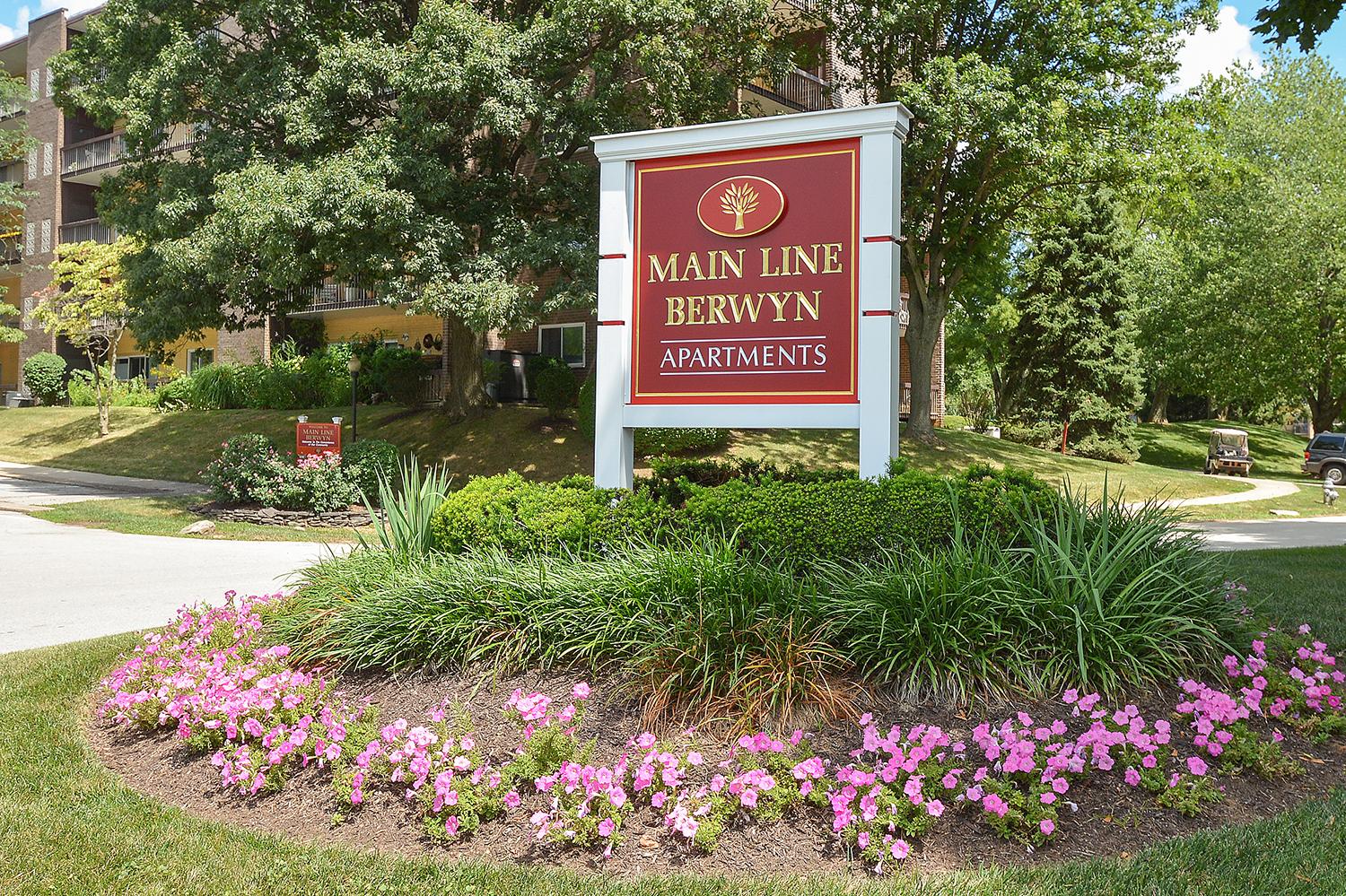 Arriving at Main Line Berwyn Apartments you will be greeted by our red and gold community sign surrounded by lush landscaping. After following signs to our leasing office, you will be welcomed into our clubhouse by our leasing team. You can save time and money utilizing our on-site gym, which includes two treadmills, two ellipticals, one cycling machine, and a full cable machine and bench area for weight training. After getting in a workout, you can cool off in our Olympic-size community pool!
Expansive Floor Plans Filled with Amenities
Main Line Berwyn's roomy one and two bedroom apartments can range in square footage from 800 to 1,295; wow, that's big! Main Line Berwyn understands the importance of living in an apartment that is big enough to fit all of your belongings while being able to live comfortably, so we designed and renovated our units to do just that! In addition to being roomy, each apartment comes standard with a full size washer and dryer, spacious closets, in-unit air conditioning, sufficient bathroom storage space, walk-in kitchens with white cabinets and grey countertops, and much more.  In addition, open your 12 foot over-sized sliding glass doors to your patio or balcony overlooking the community and smell the fresh air. To view the full list of amenities in each apartment, check out our website's amenities page!
Local Schools, Restaurants, and Businesses Close-by
Main Line Berywn Apartments is centrally located to a number of prestigious schools in the area, including Tredyffrin-Easttown School District. Running errands has never been easier living at Main Line Berwyn with Berwyn Dry Cleaners, CVS and Walgreens Pharmacies, Dragon Gym and Orangetheory Fitness, as well as Acme just under 5 miles away. Main Line Berwyn's convenient location keeps the active resident who likes to get chores done in mind.
With the community being located on the Main Line brings easy access to popular Berywn restaurants that locals regularly enjoy. Residents can try Nectar for fusion fare and sushi, Alfredo Italian BYO for contemporary Italian cooking, Berywn Pizza for a slice of local pizza and Greek dishes, Casey's Pour House for signature roast beef and American eats, and much more. And if you love venturing into Philadelphia for a night out on the town, Main Line Berywn residents can enjoy a relatively easy ride into the city just by taking Route 30 east for 20 miles! To learn more about the surrounding neighborhood of Main Line Berwyn, use our website's interactive map to navigate around!
From being located on a stretch of rich Pennsylvania history convenient for travelers, parents, and food connoisseurs alike, to providing expansive floorplans overflowing with apartment and community amenities, Main Line Berywn Apartments should be on your list of apartments to tour. To get started, give our leasing office a call, or contact us online to schedule your personal tour. We can't wait to welcome you home to living on the 'Main Line' at Main Line Berywn Apartments!
Make sure to follow @WestoverLiving on Instagram to view more property highlights!